Matt Eastland-Jones, local filmmaker and founder of the Oxford-based video production company, Story Ninety-Four, opened Oxford's first Podcast Studio last month in central Oxford to help Oxfordshire businesses tap into the growing podcast industry.  
Matt said: "Podcasting is a booming industry, with 15 million weekly listeners of podcasts in the UK alone. I wanted to provide a space, and a service, to help Oxfordshire businesses and individuals tap into that growth."
Located on Oxford Business Park, the Podcast Studio is available through Story Ninety-Four's comprehensive podcasting service which includes recording, editing, hosting and promotion of the podcast.  
The Podcast Studio is sound treated with professional recording equipment and has the capacity to record up to four people.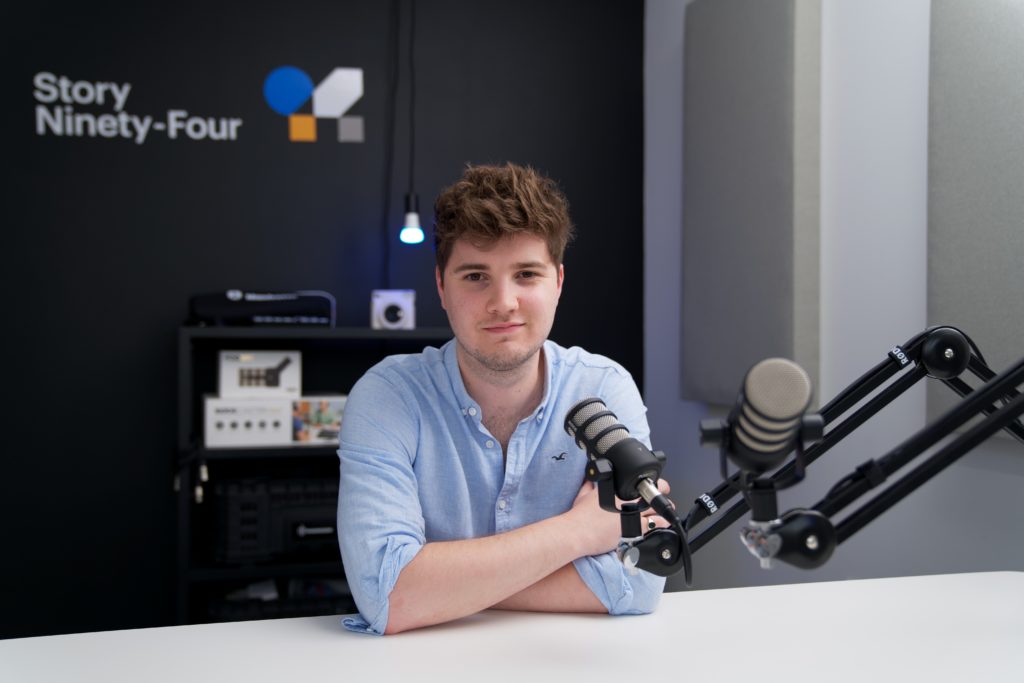 Following three years as a freelance videographer, Matt set up Story Ninety-Four, in November 2019, to provide video production for businesses with a focus on creating compelling video campaigns that generate results. Since then he has worked with local Oxfordshire businesses such as The Evergreen Agency and Crocodiles of the World, as well as national businesses such as City & Guilds Group and The Prince's Countryside Fund.  "My hope is for the Podcast Studio to become the centre of the Podcasting Community in Oxfordshire, being a safe, comfortable, and enjoyable space for people to visit to share their stories and message with the world," added Matt.
To introduce Oxfordshire businesses to podcasting and the studio, and help promote the great businesses, Story Ninety-Four has partnered up with Independent Oxford to produce the second season of the Independent Oxford Podcast featuring businesses such as The Wonky Food Company, Neve's Bees, The Herberowe Candle Co and the Treehouse Festival of Music & Arts.  
Rosie Jacobs, Co-Founder of Independent Oxford said:"Working with Matt at the Story Ninety-Four Podcast Studio has been an absolute pleasure. He has helped to elevate the Independent Oxford podcast and given the indies that have been involved a platform to tell their stories and share insights and experience from the business journeys. Having a physical space to come and tell indie stories has been invaluable in creating natural and authentic conversations, and the sound quality is incredible too! It is more vital than ever that we support indies as we traverse the route out of lockdown, so it's wonderful to have a space for business owners to share their stories."
Matt added: "Having spent such a long time in lockdown, it's great to bring people together in the studio, build relationships and record great conversations."
To learn more about Story Ninety-Four's Podcast Studio, you can visit their website or email Matt directly at matt@storyninetyfour.com.  
For more information go to https://www.storyninetyfour.com/
Listen to the Independent Oxford Podcast here: https://www.storyninetyfour.com/podcast/independent-oxford-podcast