Fans are gearing up for a four day extravaganza of some of the country's best folk music and more, at Oxfordshire's oldest festival in Towersey, over the bank holiday weekend.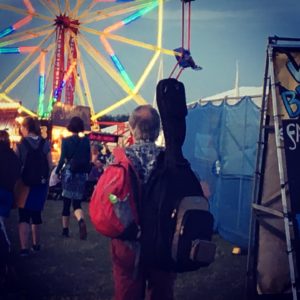 The music, fun and entertainment kicks off on Friday August 23 and runs right through the weekend until Bank Holiday Monday (August 26) at the Thame Showground.
Festival Director Joe Heap whose grandfather started the festival 55 years ago, said the event has a special place in the community: "A lot of people talk about that 'Towersey magic,' which is so hard to define yet somehow easy to pick up on. Certainly one major factor is everyone's deep connection to the festival.
"My grandfather started the festival, in 1965, and my father ran it before me, and I'm not alone in having that kind of generational relationship with the festival. There are so many other people who come every year who've literally grown up here, and that includes artists too, who now attend with their kids and camp over.
"There are generations of people who come every year – grandparents, parents, young children – it's a tradition. That helps give the festival its unique vibe, a friendliness, a welcoming atmosphere. You just have a look at one of our ceilidh dances and you'll find people aged from six right through to their 80s dancing their socks off together, having a great time."
Towersey prides itself on being a festival with roots, and is renowned for inviting the best folk artists – which this year includes The Unthanks, shanty singers Fisherman's Friends and a tribute to the festival's great friend, the late Roy Bailey, with Martin Simpson and Tom Robinson.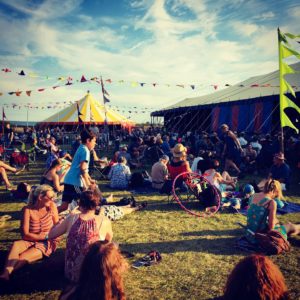 Joe added: "We also like to throw in a few surprises as well. Which is why we've invited The Selecter and Steve Harley to join us for 2019. They may seem unconnected with what we do, but they are artists with roots in traditional music: The Selecter are one of the best ska acts in the UK, a music that developed in the Caribbean in the 1960s, while Steve Harley actually started off playing the famous London folk clubs during the late-60s."
Oxfordshire is very well served for festivals of all kinds-especially when it comes to music. 
Joe added: "The festival scene in the region is hugely rich and varied. We're the oldest – 55-years-young this year – so have really seen it grow, especially in the last few years with so many niche, specialist and community events popping up. Many of them cater for specific audiences, specialise in certain styles of music, or just offer particular experiences. We're pleased to be still playing an important part in that cultural offer.
We enjoy visiting the other music festivals, but we also like grabbing a bite at some of the food and drink festivals too – there's so many to choose from."
For emerging artists, to have opportunities to play at large events like Towersey provides a great springboard for their career.
Joe added: "Playing live is where so many artists learn to, well, play! Songs grow and change in front of a live audience, and for some new artists, a festival like Towersey will be the largest audience they've played to. A great way to get your name out there! We have always championed new and emerging artists, and it's something our audience expects from us. So many people have made their debuts at the festival – The Unthanks and Eliza Carthy are two who spring to mind – and many other performers have visited Towersey early in their careers, playing a small stage, before going on to main stages."
There's some great new artists coming to Towersey this year – Kitty Macfarlane has just been nominated for the Horizon Award in the BBC Radio 2 Folk Awards 2019; Katherine Priddy is opening for Richard Thompson on his tour; and Emily Mae Winters is another new artist who's worth checking out.
Plans are already under way for next year's festival. Joe said: "We're already planning 2020's festival – working through some exciting new ideas and speaking to artists. And with a significant anniversary on the horizon, we're even starting to think about our 60th celebrations!
"We have a small core team, who work on the festival all year round, but there are hundreds and hundreds of other people involved in making the festival a success – from those who help construct the site, and put up our covered stages, to our amazing and dedicated volunteers, who are there in the car park and campsite when you turn up, look after artists, pick up litter, and so much more. We've been recycling at Towersey since the 1960s and '70s? We recycle and recover over 80 per cent of the waste leaving the site.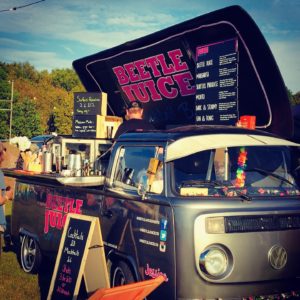 "We're a festival that's very much rooted in the local community. My grandfather, and others, who founded the festival did so to help generate funds to transform a depilated and unloved village hall. They did that, and then went on to purchase land for the village of Towersey. Times are different now, but it's estimated that we generate around a quarter of a million pounds for the local economy annually, which includes working with artists, suppliers and others from the area. We also work with local charities, from partnering with people like the air ambulance, to collecting and distributing edible leftover foodstuffs for those in need."
So for anyone who hasn't yet checked out one of the county's music events, Joe has this message: "You can hear a great tune on the radio or streaming, but it will never capture the real energy and experience of seeing and hearing that musician play that song live."
Enjoy a taste of Towersey Festival this Bank Holiday with a Festival Taster Ticket.
Allowing access to the Festival Green area of the famed annual festival the Taster Ticket gives visitors of all ages a chance to enjoy a full day of entertainment and activities, including appearances from some leading international acts.
Highlights include appearances from major street performers such as the comedic Dan The Hat, the inventive Pete White's Suitcase Circus, traditional Indian magician Jaardu, Tanzania's acrobatic Black Eagles, and the colourful marching Frumptarn Guggenband.
A myriad of stalls sell everything from hand-crafted musical instruments to unique jewellery and clothing, while various street food outlets is where you will  find everything from tasty Mexican meals, curries and full English breakfasts, to delicious fudge, tempting desserts and vegan bites.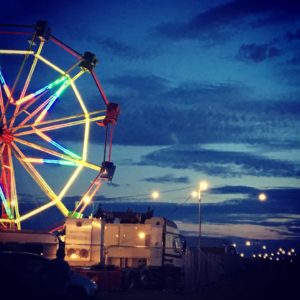 A focal point to the Festival Green is the Main Bar, which is home to a wide variety of real ales and ciders, including ales by local brewers Hook Norton, XT Brewery and West Berkshire, as well as national favourites like Marstons. Providing the music are a selection of acclaimed bands and artists including Irish country singer-songwriter Cíara Rafferty, fiery trio Bedlam, Anglo-Latvian Zydecajun ceilidh band Doughboy Zydecajun, bluegrass band Papa Truck, and one of the UK's leading a cappella group groups, The Wilson Family.
Joe added: "Our Festival Taster ticket is a great opportunity for people to just dip into Towersey Festival and see what we have to offer. You won't be able to see our main stage acts, such as The Selecter or Newton Faulkner, but you'll still enjoy some excellent music, and a range of craft beers and ciders.
"It's fantastic for families too, as there's plenty to keep younger visitors occupied – from engaging adventures told by some of the UK's best storytellers and live shows, to lots of drop-in creative and play activities as part of our growing Creative Quarter."
Towersey Festival Taster Tickets are £12 (adv)/ £10 (concs) available from Bizzie Lizzie Flower Shop, in Thame, and online; or £15 (£13 concs) on the gate. All children (under 16) are free, and car parking is also free. Gates open daily at 10.30am.
But why not upgrade to a Day Ticket and enjoy the entire festival?
A Day Ticket to the main festival costs just £45 (adult Fro-Sun)/ £35 (Mon). With a full Day Ticket, visitors can access all the main music stages and savour headline performances from Steve Harley and Fisherman's Friends (Fri); Newton Faulkner and From The Jam (Sat); The Selecter and Hothouse Flowers (Sun); and The Ukulele Orchestra Of Great Britain (Mon). Younger Towersey-goers can also enjoy a complete range of activities as part of Towersey's All About Children strand, including workshops, crafts, lantern making and lantern procession, as well as film screenings, talks, and dances, while the festival's youth programming spans Big Build projects, performances, drop-in activities, and a dedicated social area.
The 55th Towersey Festival runs from Friday 23 to Monday 26 August 2019 at Thame Showground, Thame, Oxfordshire OX9 3JL. For tickets and more details see: www.towerseyfestival.com
Day-By-Day listings (key acts only)
FRIDAY 23 AUGUST 2019
Steve Harley and Cockney Rebel
The Unthanks
Fisherman's Friends
Beans On Toast
Chris Helme
Luke Daniels
SATURDAY 24 AUGUST 2019
Newton Faulkner
From The Jam
Oysterband
Will Varley
Catrin Finch and Seckou Keita
Rusty Shackle
Nancy Kerr and James Fagan
The Urban Folk Quartet
SUNDAY 25 AUGUST 2019
Hothouse Flowers
Seth Lakeman
The Selecter
Steve Knightly
Elephant Sessions
MONDAY 26 AUGUST 2019
Roy Remembered: A Celebration of the Life and Times of Roy Bailey, featuring Tom Robinson, Martin Simpson, Andy Cutting, John Kirkpatrick, The Wilson Family, Boff Whalley (Chumbawamba), Stephen Taberner (The Spooky Men's Chorale) and guests (Towersey Exclusive)
The Ukulele Orchestra of Great Britain
The Conservatoire Folk Ensemble (Festival Finale)
The Dung Beatles
Sam Kelly and The Lost Boys
TICKETS
Weekend Tickets (4 days)
Tier 1 / Tier 2 / Tier 3: Sold Out.
Tier 4: Adult £149; Conc £140; Youth (12-17yrs) £104; Child (5-11yrs) £65; under 5s Free.
Day Tickets (Fri-Sun): Adult £45; Youth £30; Child £20; U5 Free. (Mon) Adult £35; Youth £25; Child £15; U5 Free.
Towersey Festival Green Taster Tickets: £12 (adv)/ £10 (concs) available from Bizzie Lizzie Flower Shop, in Thame, and online; or £15 (£13 concs) on the gate. All children (under 16) are free. Weekend camping and per-night camping available.
Twitter: @towerseyfesti #Towersey2019
Facebook: TowerseyFestival
Instagram: towerseyfestival2019
Box Office: 0115 807 7900